Archive for Knowledge Management
Why don't we hear about the emotional engineering discipline of Kansei? Why is that? As Design Thinking and Service Design have moved to the forefront in many organizations, we seem to have forgotten about this method. It is so unfamiliar, that I feel a need to define it first:
Kansei is a Japanese term with a broad interpretation that includes sensitivity, feelings, images, affections, emotions, wants, and needs. The term Kansei used in Kansei engineering refers to an organized state of mind in which emotions and images are held in the mind toward physical objects such as products or the environment. Others simplify it greatly by just referring to Kansei Engineering as sensory or emotional usability.
In today's world, developing products/services requires an organization to understand the emotional needs and difficulties of their prospects and customers. Our product/service development should be centered on understanding value in use (Service Dominant Logic). Most organizations struggle in their attempts as they evaluate seas of data masqueraded in a method called voice of customer. Often, it loses the personality of the customer. As a result, the tendency is to view development as product/service centric rather than customer/user centric. The area of Empathy is very evident in Service Design and Design Thinking but gets lost in many engineering and product (goods) dominant centered cultures.
From the book, Kansei Engineering, 2 Volume Set: Kansei/Affective Engineering (Industrial Innovation Series):
The Kansei of Kansei/Affective Engineering applies mainly to the customers' feeling. If research and development (R&D) people are oriented to the customers' wants and needs, the team will be successful in developing a good product, and the customer service people can fulfill the customers' expectation. The service is also one of products, namely the service product. There are two different streams in product development, which are called product out and market in. The former implies a philosophy of product development based on technology developed in a company or based on the company strategy, without attention to customers' wants and needs. Many inventions have emerged from this approach.

Another approach to product development is to focus on customer wants and needs. Nowadays people have many goods at home, and it is not easy to stimulate their purchasing behavior. But customer-oriented product development will be successful in selling a new product because the market-in philosophy leads to the development of a product that fits customers' feelings and emotions. This is why Kansei-oriented development is needed in R&D activities.
A quick outline of the process (we will dig deeper in tomorrow's blog post):
Who are the customers?
What do they want and need? (What is their Kansei?)
How do I evaluate the customers' Kansei.
Analyze the Kansei data using statistical analysis
Transfer the analyzed data
Design
This concept is shown graphically below: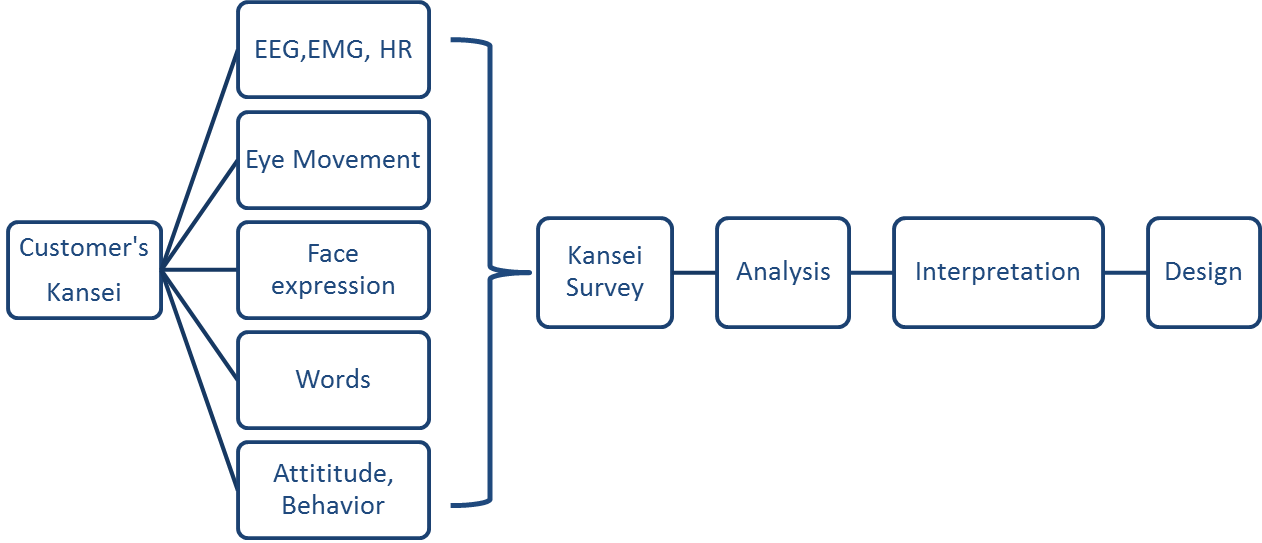 The customer's Kansei has a variety of ways it can be demonstrated and addressed. Each measure could have its own path of development.  An example below: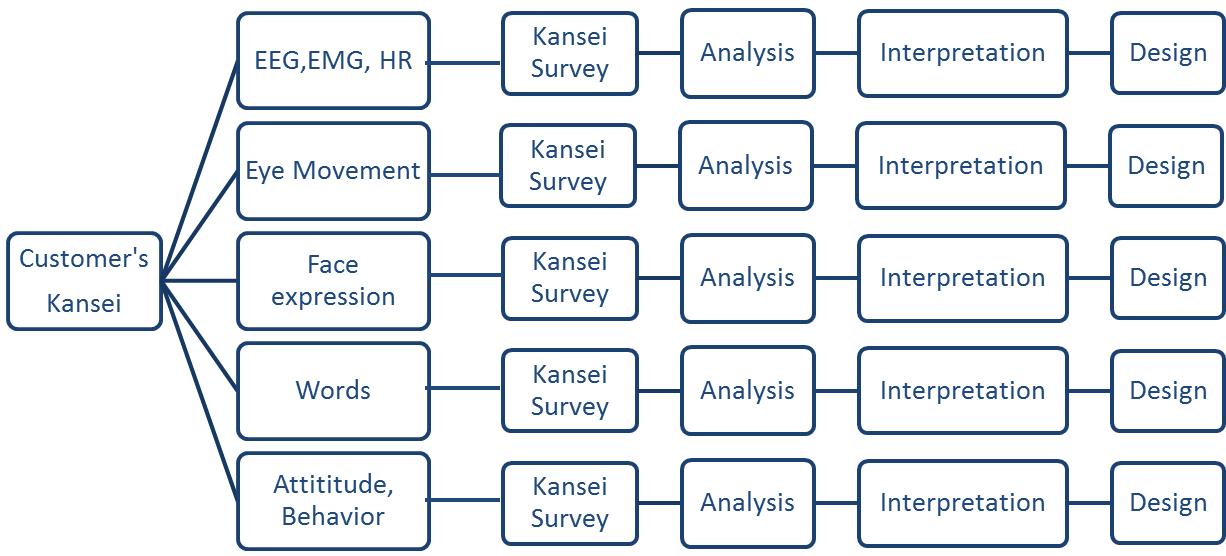 The choice is important, and not all paths will be chosen. It is the one or several that will emerge as the most critical and important to the customer.  This may be done by observation of the customer, through prototypes, interviews etc.
Kansei/Affective Engineering is defined as the technology of translating the consumer's Kansei into the product design domain (Nagamachi 1995,1999, 2005,2010).  Most of the published material on this subject is in the two volume set Innovations of Kansei Engineering and Kansei Engineering, 2 Volume Set: Kansei/Affective Engineering (Industrial Innovation Series). The publisher, CRC Press, makes it difficult for you to know which should be the first volume to buy and/or if buying the second book includes material from the first since the title contains "2-volume set". For a hefty price tag of $123.54 for the two it seems like it should be better defined. Especially for a blogger trying to research the subject.
P.S. More discussion in tomorrows blog post.