Dr. Nick Morgan:  Good stories reveal their structure and they tell you where they're headed and yet, still provide surprises, so you're interested. When we go to a Hollywood movie, we have certain expectations. We know things are going to start with a bang. We know that the hero is going to off on a long journey and things are going to happen to him and it's going to be tough. We know that he's going to win in the end if it's a happy ending.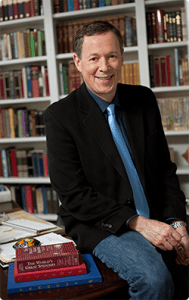 We have certain generic expectations. What surprises us then, is the detail along the way. We care about detail. We care about the story only when we know what the overall structure is and we sense that there's a good story going to happen. When somebody tells an anecdote, there's no story there and so, we don't know where it's headed and we don't care about it.
Dr. Nick Morgan's New Book: Power Cues: The Subtle Science of Leading Groups, Persuading Others, and Maximizing Your Personal Impact
Joe Dager:  In a business story, should I be making sure people understand how the story is going to unfold in the beginning?
Dr. Morgan:  Yes, but you have to do it in artful way. You can't say, "So now, I'm going to tell you a story and it's going to have a beginning, a middle and an end." You have to tie it into one of the great basic stories that I talk about in How to Tell Great Business Stories, and is the book that you referenced. There are five of them. There's the quest. That's the one that Hollywood tells most often, by far. There's a stranger in a strange land, there's revenge, there's a love story and there's rags to riches. If you tell one of those five basic stories, then people get it.
If you say, to your business audience, "We're about to head out on a journey and it's going to be a long journey. It's going to be tough and we're going to have to work late nights and we're going to have to eat a lot of junk food and drink a lot of Pepsi. We're going to have to work harder and pull together as a team better than we ever have before."
If we do that, we're going to come out with this product, which is going to reinvent the paper clip industry in a way that's so astounding. We will be heroes. They'll stand up and cheer for this paper clip that's like no other paper clip. It's going to be incredible.
What I've done there is I've made the audience the hero. I told them that the journey is going to be long and hard. I've told them there's a cool goal that's worth striving for at the end: that amazing paper clip. That's the beginning. That's sketching out a quest story. If you do that, people know where you're going because they understand the demands, the aspects of the genre. Then, they'll want to hear the details of what the journey is going to be like.
Joe Dager:  I hear "stories, stories, and stories." Is it just a catch phrase? Do wWe need to describe everything in stories? Is it practical? People want information, not stories, don't they? We're in this Sound bite, Twitter world and we want to get in and out as quickly as we can. Do we want to sit back and hear a story?
Dr. Nick Morgan:  Well, it's amazing. Even at the same time Twitter is succeeding beyond its founder's wildest dreams, yes, people do want it short and sweet, they don't want the detail and so on and so forth. At the same time, people are binge-watching House of Cards on Netflix and they're binge-watching Game of Thrones. They get into the detail of these kinds of things because those are well-crafted stories. I would say people still love stories. When it's told well, then they want to get involved. Most of the time, we just want the quick version because it's not interesting. That's the mistake that businesses make.
If it keeps it at that uninteresting and superficial level, then, sure, give it to me short because it's not going to reward me for hanging in there for a long time. But when you tell a good story, a rich one, an interesting one, then we want to hear more. Some businesses are very good at this. Most of them are not. It's the few that do it well.
This is an excerpt from tomorrow's Business901 Podcast with Dr. Nick Morgan, who is one of America's top communication theorists and coaches. A passionate teacher, he is committed to helping people find clarity in their thinking and ideas – and then delivering them with panache. He has been commissioned by Fortune 50 companies to write for many CEOs and presidents. He has coached people to give Congressional testimony, to appear on the Today Show, and to take on the investment community. He has worked widely with political and educational leaders. And he has himself spoken, led conferences, and moderated panels at venues around the world.
 Dr. Nick Morgan's New Book: Power Cues: The Subtle Science of Leading Groups, Persuading Others, and Maximizing Your Personal Impact