A serial entrepreneur having founded multiple start-up companies, including one of the first profitable Internet enterprises. His last company appeared on the Inc. 5000 list three years in a row. Eric V. Holtzclaw, Founder/CEO of Laddering Works, advises clients on the "whys" of business:
Why customers buy,
Why teams work and
The all-important "entrepreneurial why".
Eric's new book is Laddering: Unlocking the Potential of Consumer Behavior. An excerpt from next week's Business901 podcast:
Joe: Instead of driving a car you got out and looked at it as it was going down the road?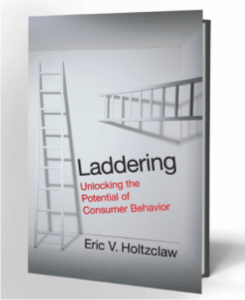 Eric Holtzclaw: Or sort of I built the car and thought it was perfect, and then I put somebody else in to drive it, and they were like, "Why did you put the steering wheel here?" and "I have no idea what this button does." It was a very enlightening thing. You get wrapped up in the idea and start heading down that path and unless you can get a third party, someone who doesn't really have a vested interest in whether or not it's successful or not, to tell you what's going on with it and what you should do differently.  The thing that people are afraid of in that world is that they're going to be told that the overall concept is wrong. And that's rarely the case. What it is, is a tweak. "Well I like it but I wish it were just this." And you could make that small change to it which is the difference often in a complete success or complete failure.
Joe: How can you really distinguish if it's of true value or if it's just a want of someone that someone's really willing to pay for it?
Eric Holtzclaw: Well it's about patterns. So any of the work that I do is in looking at patterns, and I often use the concept of A Beautiful Mind, which was the Russell Crowe movie I think, and people told me, "Well he was crazy," so I tried to move over more maybe to Minority Report because you could see the patterns upon the page and kind of look at what went together. You want to do this work and talk to your customers one-on-one so that you're not getting group think.
Many people use focus groups which is a very lazy way of understanding what your customer wants and what they care about. I can get six people in the room and if there's one dominant I can get them all to start thinking like that one dominant thinks. What you want to do is have conversations with your customers one-on-one and then what you'll know is as you see customers saying the same things sort of unsolicited and that you identify that as a pattern, then you know you have something you should act upon. You shouldn't act upon one data point, but if you hear eight to twelve customers telling you the same thing, that's a pretty strong pattern and something that you should consider looking at and thinking of a different option.
Lean Sales and Marketing: Learn about using CAP-Do
Special Marketing with Lean Book and Program offers on Facebook