Lean Service Design changes the way you think about business. No longer can companies focus their efforts on process improvements. Instead, they must engage the customer in use of their product/service rather than analyzing tasks for improvement. We no longer build and hope that there is a demand. We must create demand through the services that we offer and Lean Service Design is the enabler of this process. It changes our mindset of thinking about design at the end of the supply chain to make it look good and add a few appealing features.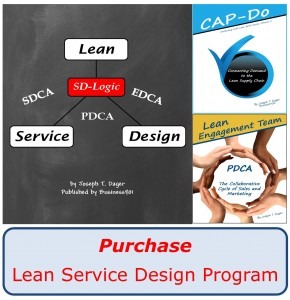 Instead, it moves Design and the user themselves to co-create or co-produce the desired experience to the beginning of the supply chain.
Or, purchase the Lean Service Design Program!
Purchase the 130 page PDF for download, Lean Service Design
The umbrella of Lean offers Service Design a method of entry into a well-established market. Lean has been very successful in Services and Design through traditional practices. However, we must move away from these traditions and institute a wider scope of Design to Services. This download contains a 130-page PDF book, workbook with forms, PDFs and training videos.
Table of Contents
Chapter 1 – Lean (SDCA)
Chapter 2 – Service (PDCA)
Chapter 3 – Design (EDCA)
Chapter 4 – Trilogy
In addition, for a limited time, I have included 2 popular eBooks from the Marketing with Lean Series:
Lean Engagement Team (More Info): The ability to share and create knowledge with your customer is the strongest marketing tool possible.
CAP-Do (More Info): What makes CAP-Do so attractive is that it assumes we do not have the answers. It allows us to create a systematic way to address the problems (pain) or opportunities (gain) from the use of our products and services.
Or, purchase the Lean Service Design Program!
Purchase the 130 page PDF for download, Lean Service Design
Connect with Me on LinkedIn and Mention the Date of the Blog Post
I will send you a Free PDF of The Lean Marketing House
A few reasons to consider the Lean Marketing House book:
Is there a reason to use Lean in Sales and Marketing?
Do you have to be practicing Lean in the rest of the company?
Is Lean Marketing the same as Agile Marketing?
How does A3 problem solving relate to Marketing?
Why is Social Media so Lean?
Can your company ever complete a Lean Transformation without Sales on board?
What does Knowledge Creation have to do with Lean?
Develop stronger partnerships with your customers?
Provide a methodology to become more precise in your sales and marketing?
Begin a continuous improvement program in your sales and marketing?
Book Description: When you first hear the terms Lean and Value Stream most of our minds think about manufacturing processes and waste. Putting the words marketing behind both of them is hardly creative. Whether Marketing meets Lean under this name or another it will be very close to the Lean methodologies develop in software primarily under the Agile connotation. This book is about bridging that gap. It may not bring all the pieces in place, but it is a starting point for creating true iterative marketing cycles based on not only Lean principles but more importantly Customer Value.
Or, purchase the Lean Service Design Program!
Purchase the 130 page PDF for download, Lean Service Design