Archive for Marketing with Lean
When I started writing my blog post yesterday, Lean Offers a Variety of Choices to drive a Nail, it was actually meant to be this one. I somehow, which is not difficult for me, wandered off on a completely different thought process. My initial conversation was directed at the similarities between Outcome-Based Mapping and how you can use similar tools such as the SIPOC (Supplier – Input – Process – Output – Customer).
I use a SIPOC before doing any process or value stream mapping process. It is a useful tool ensuring that you get all the steps aligned. In Outcome-Based Mapping, I use a very similar approach in structuring and explaining the process. When introducing OBM, I create a very definable current state. We can do this for services or sales and marketing.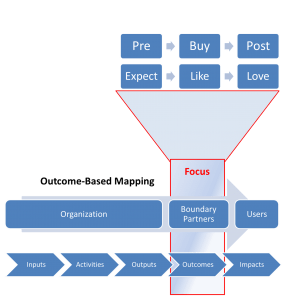 First list the activities of the organization which consists of Inputs, Activities, and Outputs.
The inputs are the resources you direct at the effort. I typically consider these to be Time, Money and Skill (People) and I might just add the word capacity. It is what we are capable of getting done. It is current state.
Activities are based on what we do. We may do webinars, mailings, advertising, etc. All of our activities are supported by the dedicated resources.
Outputs are what these activities accomplish. We may create website visitors, podcast listeners, readers reached, sales calls made. etc. This is what we internally accomplish within our organization.
What I like to do is list all inputs separately, activities and outputs generated. Mark down what you know and create a concept map from them. It can get quite messy and confusing. If you can segment, you can list the portion for each activity and also separate out the outputs from these activities. There could be one or many. Messy is OK.
If you have created a process map or a marketing funnel before you have most of this already done. The difference now in the outcome based mapping approach is that I skip the outcomes right now and list my boundary partners that our effected through my outputs. This incorporates any type of buyers, distributors, service centers, referrals and other that assist, not only in the purchase but also in influencing the bigger picture, the impact of what we are trying to accomplish.
This impact is the overall goal of our users that Job-to-be-done (Jobs to Be Done Mindmap) type thinking. It is not an outcome; outcomes are what we work for. Impacts are what we hope for. It is OK to make this a stretch and push it out a little we can always refine it. Most marketing plans and most people/organizations think in a transactional way and stop here.
This is where organizations that build eco-systems and platforms start. As I said before, outcomes are what we work for. It is a change in behavior, attitudes, conditions, knowledge, and status (BACKS). In OBM, we look at three basic outcomes, Expect to See, Like to See and Love to See. Within each of these outcomes, you can identify the BACKS of any given Boundary Partner that fit in each one of the three categories. There is little difference than what you might do when segmenting customers into multiple marketing funnels. The difference is that we are identifying BACKS measurement as the prime mover of influence.
Within the confines of our organizations, we are spending valuable resources on managing change and developing self-organizing teams. However, we are doing little to take the same approach with customers. We still believe that we can dictate our preferences upon them or that we can move them down the marketing funnel into a transactional event (Value Stream Mapping should be left on the Shop Floor). We even talk about ideal customers and getting rid of those that don't fit. We do little to develop a structure to understand, facilitate and cooperate with the Behavior, Attitudes, Conditions, Knowledge, and Status of our partners and customers.
Using an Outcome-Based approach we identify the BACKS. We evaluate our outputs based on how the BACKS are improved. This is a true measurement of the customer experience. If we intend to build a sustainable business, if we intend to build a platform or have our own eco-system; we have to understand our customers and partners better. I think this approach is an excellent alternative. Your thoughts?
Book references:
Outcome Mapping: Building Learning and Reflection into Development Programs
The Nonprofit Outcomes Toolbox: A Complete Guide to Program Effectiveness, Performance Measurement, and Results
Lean Sales and Marketing: Learn about using CAP-Do
Special Marketing with Lean Book and Program offers on Facebook