Mick Wilz, co-owner of Sur-Seal Corporation, began his own journey to personal and business excellence about five years ago by actively seeking a variety of tools to meet his needs and the needs of the business. He says, "My interest is to take tribal knowledge and make it visual and accessible to everyone." Mick is the Director of Enterprise Excellence and Co-Owner of Sur-Seal Corporation.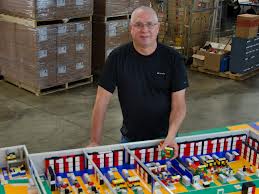 We talked about Mick's journey in part one of the podcast. In the 2nd part of the podcast next week, I have Bob Petruska, author of Gemba Walks for Service Excellence: The Step-by-Step Guide for Identifying Service Delighters. talk about as a consultant how he might apply what he has learned from Mick to other organizations. Bob is phenomenal at leading change and his take on Mick's journey was remarkable.
You can find both these guys on the same day and at the same place at the upcoming ASQ Charlotte Conference on April 8th, 2014. It will be held at the Harris Conference Center. Not that I am biased, but Bob and Mick's track is called Keep Your Organization's Chain Straight.