I have been pretty vocal in the past about using Value Stream Mapping, Value Stream Mapping should be left on the Shop Floor, and along with a couple other blog posts, Shaping your Customers Vision and Kill the Sales and Marketing Funnel. I think these types of tools lead us down a precarious path when used in sales and marketing. The approaches prematurely foresees a solution for the customer without ever understanding their needs.
In the Job To Be Done Thinking created by Tony Ulwick (What Customers Want), Ulwick claims that these three distinct outcomes are what organizations need to know in their marketing practices. Expanding on them….
Jobs (to be Done) are the tasks or activities that customers are trying to get done
Outcomes are what customers are trying to achieve
Constraints something that may prevent a customer from using a product or service
If you would like to learn more about JTBD thinking, I would recommend following Mike Boysen's blog, Effective CRM. In one of his past blog posts, The Customer Process: The Five Things You Need To Know Now, he discusses the use and importance of Mapping. Many might seem a direct contrast to my above thoughts. The problem that I have always had is that all this mapping and journey stuff has typically been done without the customer involvement and/or a method to validate the assumptions we make. How I solved it presently for myself is with an old tool, Logframe Matrix that I have waffled using for a decade or so. I had first used it working with Non-profits and later revived it as I worked on some outcome mapping tactics. A quick description of the process:
A LogFrame Matrix is a document that outlines the key features that lead to a project achieving its goal. A LogFrame consists of a 4 columns and 4 rows.
The first column represents the hierarchy of activities to outcomes that needs to occur for the project to succeed.
The second column represents the indicators that are appropriate measures of whether the activities, outputs or outcomes have been achieved.
The third column represents the data source or means to verify the indicator.
The last column outlines the assumptions that need to hold true for that particular activity, outcome or purpose to occur.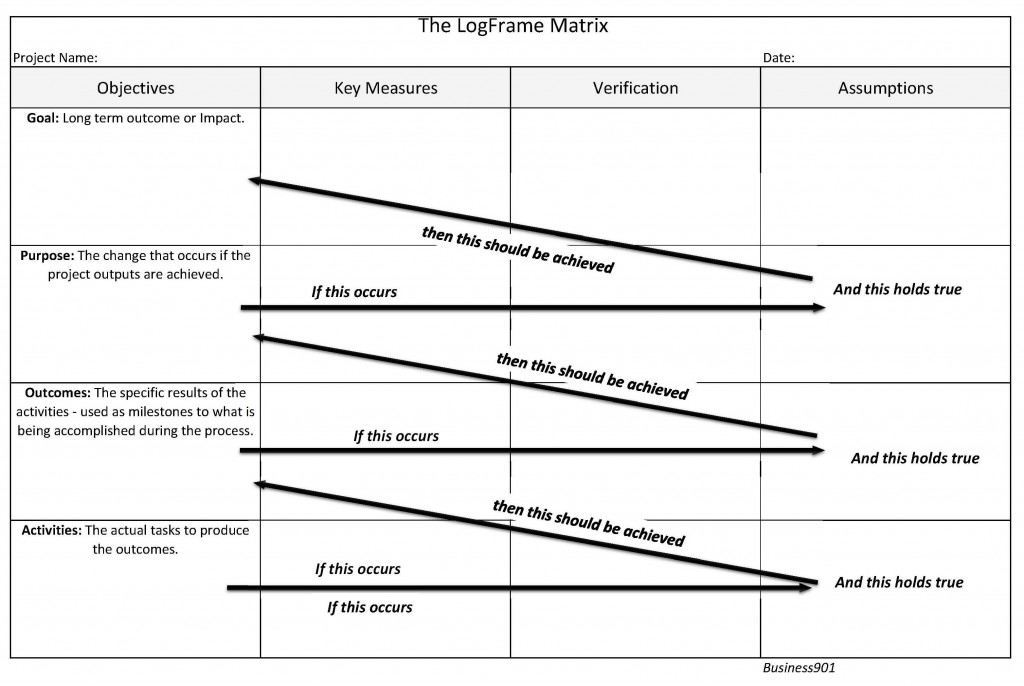 This reminds me somewhat of a SIPOC (Suppliers – Inputs – Process – Outputs – Customers). The SIPOC offers a high-level view of the process, and I always recommend using before the mapping process begins. However, the LogFrame could be used to validate the steps of a Customer Journey Map, after the mapping event and as we put our findings into action. It allows us to test our assumptions and put some granularity to our mapping process. I did an outline based on how a Job To Be Done LogFrame is viewed.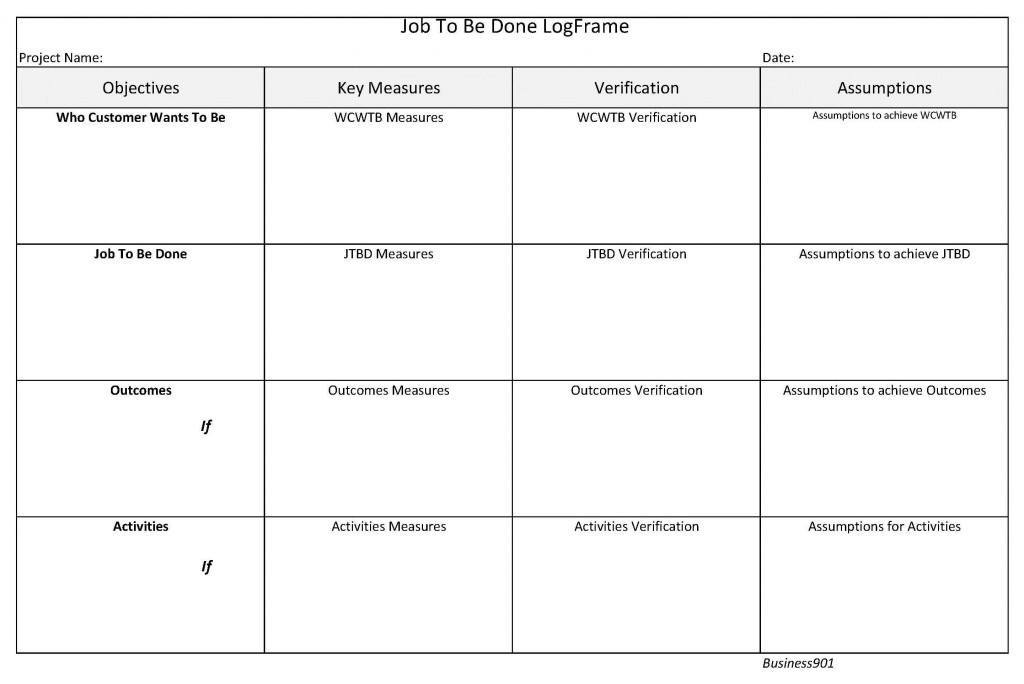 The objectives, of course, would look a little different. A short description follows:
Who the Customer Wants to Be: Michael Schrage, author of Serious Play, published a book taking these concepts one step further. Who Do You Want Your Customers to Become? challenges us to take our value proposition of use to a longer term growth platform. He dares us not only to have a corporate vision statement, but a customer vision statement saying that our future depends on their future. He phrases all this in something he calls "The Ask." I discuss this concept in more detail in a blog post, Shaping your Customers Vision. When we flip this thought to Job To Be Done Thinking it allows us to have that impact statement or that larger goal that our customer is striving to achieve.
Job To Be Done:  JTBD is broken down into a couple of components. The Main jobs would describe the tasks that customers want to accomplish, and the Related tasks are what they want to accomplish in conjunction with the main tasks. They can be further broken down into social, emotional and functional aspects. Depending on the complexity, we could make a separate LogFrame for those components but you can have separate multiple Jobs to Be Done on each LogFrame. Since, I usually start with Post-it-Notes, I sometimes will color-code them based on the social, emotional and functional aspects. I will also keep the color-coding for the remaining two steps if needed.
Outcomes: The specific results of the activities ? used as milestones to what is being accomplished during the process. these remain the same concept though I may have current, intermediate and long-term outcomes.
Activities: The actual tasks to produce the outcomes. This is usually a high-level view and can be turned into a project plan or a Kanban board for execution.
I am in the process of creating a generic outline to follow in more detail, but this is just a starting point. What are your thoughts? Does this add some opportunity for better measurement and verification? Could you monitor and evaluate your efforts better this way?
Lean Sales and Marketing: Learn about using CAP-Do
Lean Engagement Team (More Info)