Todd Wasserman at Brand Week reported:
A down economy has meant more stability for chief marketing officers, according to an annual report from Spencer Stuart. The survey found the average tenure for a CMO at a major firm was 34.7 months in 2009, a jump of 6.3 months over the previous year and the longest since the executive search firm began tracking the statistic in 2004.

In a statement, Tom Seclow, who leads Spencer Stuart's marketing officer practice, credited the expanding skills of CMOs. "Since publishing our original CMO tenure study back in 2004, we have continually counseled CMOs to think and act like general managers who just happen to be great marketers," said Seclow. "Today, we're seeing more and more examples of sophisticated and savvy CMOs who truly have influence among their peers in the C-suite. This is undoubtedly contributing to longer CMO tenures in many cases."

The firm also attributed the longer tenure to macroeconomic trends, like reduced spending on marketing initiatives, consolidation in some industries and a lagging job market.
When Spencer Stuart launched the study in 2004, the average tenure was 23.6 months and hit a low of 23.2 months in 2006.
Good news that it has increased, Bad News is 34.7 months Good!
– CEO's range from 7 to 10 years.
The demand for accountability and performance is becoming  more important to marketing. However, we are beginning to see the introduction improvement of new systems to meet these objectives. Six Sigma and other initiatives are framing how performance should be reported to recognize key intangibles and drive improvement. New technologies are emerging to present this information in dynamic and accessible fashion. These things can be described as dashboards, scorecards, or key performance indicators; Visual Windows on performance trends and expectations.
As companies seek real-time agility and action they need decision enablement and decision automation capabilities to drive intelligent interaction on the frontline. In researching background information for Six Sigma Marketing Institute's upcoming 5 Cs of Driving Market Share program, I discovered a 7-step process recommended in the book, High Performance Marketing: Bringing Method to the Madness of Marketing
. He recommends these activities be built within the everyday workflow.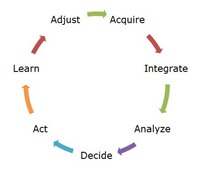 Acquire: Companies must have processes and systems in place to capture the data that will be used to develop greater understanding of markets and customers.
Integrate: In the most raw form, customer and market data are rarely very useful. It may lie in various data silos and operational systems. Companies must integrate the data to make it accessible and applicable gaining a more complete picture and understanding of the trend, segment or customer that must be analyzed.
Analyze: Once information is aggregated and made accessible it then becomes possible to analyze. This is stage which value is added to the information by putting it into a useable context. The key to step is to close analysis gap that lies between the rapidly accumulating base of data and the company's ability to interpret that data in raw ways.
Decide: Based on the analysis that emerges, marketers and other professionals can make decisions on what markets to target, what customers to assign highest priority, what campaigns to conduct, which offers a generate, and what promising activities in which to invest. Models of analysis will not make decisions for us, but they can in able us to make more intelligent, disciplined, and fact-based decisions.
Act: Companies too often manage information in a vacuum far removed from the context in which it will be use. As a result of this approach the value of the information is never truly realized. Key aspects of support, such as incentives, training, and resources may be necessary to ensure a valued information is leveraged in the field on the front lines.
Learn: Analysis must precede and follow action. It is vital to conduct a type of after action review to determine how information has influence real-world performance.
Adjust: Based on findings in relation to the outcomes the organization must improve and adapt. The process then becomes full circle as it becomes clear what new types of information must be acquired in order to gauge the market and increasingly successful ones.
I guess if I ever became a Chief Marketing Officer, I would want to have an expectation greater than 2 to 3 years on the job. However, if I did not have the data to support the decision who could blame the CEO?
Related Information:
Six Sigma Marketing
Listen to Eric's Description of the 5 Cs of Driving Market Share
Role of Managing Data in Marketing