The Monitoring (Control) stage is where you learn how to put monitoring systems into place to ensure that their competitive value proposition accomplishes what is intended. This control effort focuses not only on the more strategic value proposition, but also can be set up to monitor specific transactions such as sales, repairs, inquires and other customer experiences. This monitoring process acts as a trip wire, providing information where there are potential people, product of process issues that require intervention.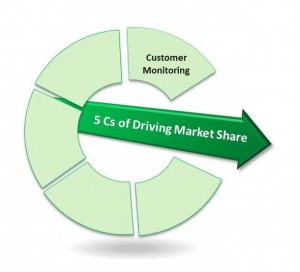 5 Cs of Driving Market Share is a comprehensive program. It is not a project-by-project approach for reducing the costs of marketing activities, but rather an approach that seeks to enhance marketing's effectiveness and efficiency. For organizations that have deployed Six Sigma or other quality initiatives, the 5 Cs approach provides a user friendly bridge for moving the quality focus from the manufacturing floor to the marketplace. Those seeking to become best in market must shift their focus from a product orientation to a market orientation, from an internal efficiency focus to an external focus. Best in market companies will be those that can make this transformation and make it soon.
Download Podcast: Click and choose options: Download this episode
or go to the Business901 iTunes Store.
Dr. Eric Reidenbach the creator of this program has allowed me to offer the audio section of the program on the Business901 Blog this week. An outline of this weeks activities:
Monday: Customer Identification
Tuesday: Customer Value
Wednesday: Customer Acquisition
Thursday: Customer Retention
Friday: Customer Monitoring
If you would like to learn more about this program visit 5Cs of Driving Market Share.
If you would like to purchase this program at a 50% discount for the next 7 days only,
use the link below.
Download 5 Cs of Driving Market Share
Podcast: Play in new window | Download