A common sales exercise is to have a new salesperson state in a paragraph what they do for the company. They are then asked to state it in a sentence or two, after that one word. Organizations will often do the same thing in a mission exercise. It provides clarity to the mission. It is a great internal exercise, and when used in customer facing approaches we may use the term elevator speech. Few companies are not accustomed to this activity.
Another step in the process is building our Sales/Marketing Funnel that we define how we believe either a customer will act or how we might manipulate the customer through the process. We segment out the non-interested and hammer on the interested thinking that we will become more efficient and effective as we practice.
Value Stream Mapping should be left on the Shop Floor
Shaping your Customers Vision.
Kill the Sales and Marketing Funnel
I prefer thinking in scenarios, and identifying behaviors in hopes of better understanding customers needs and objectives more clearly. My logic is somewhat contrary to the basic funnel approach and consist of only three basic categories:
Expect to See (What I will find or pre-purchase stage)
Like to See (Engaging or Purchase Stage)
Love to See (Relationship/Partners or Post-Purchase stage)
Within each of these stages, there may be additional information but keeping a step by step linear approach at a minimum. A linear approach in this day and age is nonsensical. It is outdated, and one of the major reasons the traditional 5 and 10 year plans are being replaced by scenario planning. My preferred method of sales planning is creating stories within each category. What better way to influence people than through story? And, Sales is about…influencing people or organizations.
As Annette Simmons says in the book, The Story Factor (2nd Revised Edition):
A good story helps you influence the interpretation people give to facts. Facts aren't influential until they mean something to someone. A story delivers a context so that your facts slide into new slots in your listeners' brains. If you do not give them a new story, they will only slide new facts into old slots…..

…You can rant and rave all you want over people who won't face the facts… but you facts won't reach them till you give them a new story….

….If you let the "facts speak for themselves," you risk an interpretation that does not fit your needs.
Another treasure from the book, is "The Six Stories You Need to Know How to Tell". As you review these, think of having these six stories for each of the before mentioned stages. Think of practicing them in story form, in a paragraph, two sentences and eventually to one word. Powerful?
Who-I-Am Stories: People need to know who you are first and what experience you have that would allow them to be influenced by you.
Why-I-Am-Here Stories: People assume you are there to sell them something that will cost them time, money or resources. State why you believe in what you are doing or if it is just about money, be honest and say so.
Teaching Stories (How I would like you to think): Use story to demonstrate your points. Tell stories that will create either shared experiences and or ones that the customer can identify with.
Vision Stories: Build the future by re-framing the present difficulties without over selling .
Values-in-Action Stories: Values are subjective. You must through demonstration/trial what value your product/service brings.
I-Know-What-You-Are-Thinking Stories: A story with the words, "You may be thinking" often is an excellent way to counter objection even before they arise. It validates their thinking and dismisses their objections in a non-confrontational manner.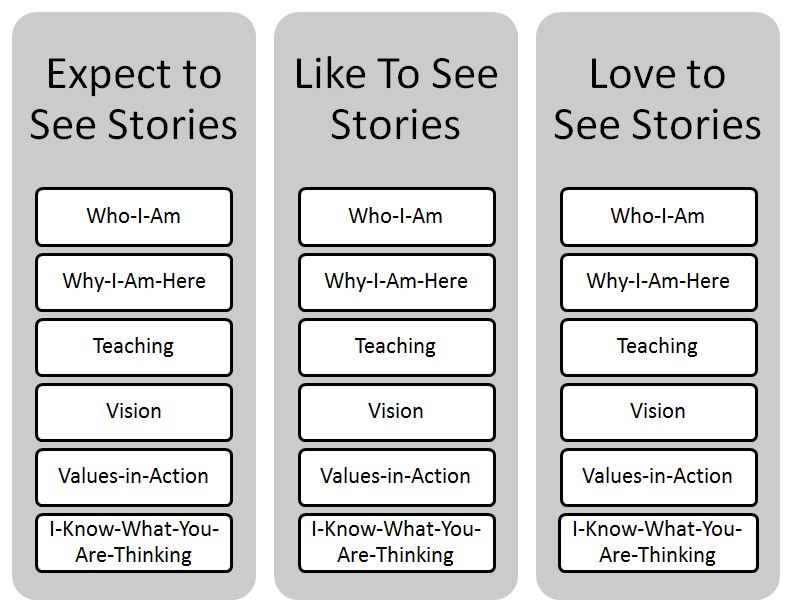 Being able to articulate through story is the most powerful sales tool that you have. The stories can be given in any type of media, demonstrated at any type of event and repeated over and over again. As we all know, a good story never grows old.
Lean Salespeople are Challengers, not Problem Solvers
Annette Simmons, founder of Group Process Consulting is my podcast guest tomorrow.