Can a Mature Company Risk Experimentation?
By
In next week's Business901 podcast, I had the pleasure of interviewing Saul Kaplan, the author of The Business Model Innovation Factory: How to Stay Relevant When The World is Changing. An excerpt from the podcast:
Joe:  Can a mature company afford to take that risk with their brand, to do that type of experimentation and be that transparent with the customer?
Saul:  I would put a counter argument out. Can a mature company afford not to? How many "mature companies" are incredibly vulnerable to being Netflixed or to having somebody new come in to their space that does not compete in the traditional industry the way they define it. Not interested in taking a share of point away from them, but interested in completely redefining the market and how value is delivered to a customer. If you are a leader and you are watching this activity go on today, and you don't have the capacity to understand it, to do some experimentation of the various models that might work, you are going to be disrupted.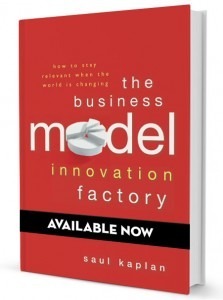 I tell the story in the book, about Sony Corporation. Here is a company that is in a world of hurt right now. They watched the entire music business get swept away from them by Steve Jobs and Apple. Should that really have happened to Sony? Think about it, they had a huge division that was in the music business, had under contract some of the world's greatest star performing artists, had another huge division that made the coolest products and new technologies. It even brought us the Walkman for heaven's sake. I am old enough to have had one.
Everybody had one. What happened to Sony? They had all the parts, all the capabilities that they needed to completely change the way music was enjoyed, and delivered to consumers. But they were so stuck in their current business model, and the political infighting between the divisions, that they couldn't do experiments that recombined the parts to do what Steve Jobs ultimately did. Companies the size of Sony, if they want to stay competitive are going to have to create the platforms and the sandboxes to do that experimentation, and put resources in there to be able to play with new business models, because if they don't, someone is going to come along like Apple did, and take them down. This is not going to be the exception in the 21st century, this is going to be the rule.
How do you do that is what I outlined in the book. We don't have all the answers, but we have a lot of experience. We tell and share a lot of stories about how you go from tweaks to transformation, and we are beginning a conversation with like-minded innovation junkies, to be able to explore those ideas and put them into practice.
About: Saul Kaplan is the founder and chief catalyst of the Business Innovation Factory (BIF), a real-world laboratory for exploring and testing new business models and social systems. BIF has attracted a global community of over 5,000 innovators and organizes the internationally renowned BIF Collaborative Innovation Summit. Saul shares his innovation musings on Twitter (@skap5) and his blog (It's Saul Connected), and as regular contributor to the Harvard Business Review, Fortune, and Bloomberg Businessweek.
Related Information:
What's New in Business Model Generation?
Do You Know the Right Job For Your Products?
Will Product Managers embrace Open Innovation?
Steve Blank on the Lean Startup at Ann Arbor