Orry and Art are participating in the upcoming Lean People Development and Lean Accounting Summits taking place during the week of September 11-15, 2017 in the charming southern city of Savannah, GA.
Orry Fiume recently co-authored the book, The Lean Strategy, Orry Fiume is the retired CFO and Director of The Wiremold Company. Orry led Wiremold's conversion to lean accounting in 1991 and went on to install lean accounting at more than 20 Wiremold acquisitions.
As CEO of The Wiremold Company Art Byrne led an aggressive Lean implementation that resulted in Wiremold winning a Shingo Prize. More importantly, Art recently wrote the book, The Lean Turnaround: How Business Leaders Use Lean Principles to Create Value and Transform Their Company that is said to be the c-level guide to succeeding with Lean,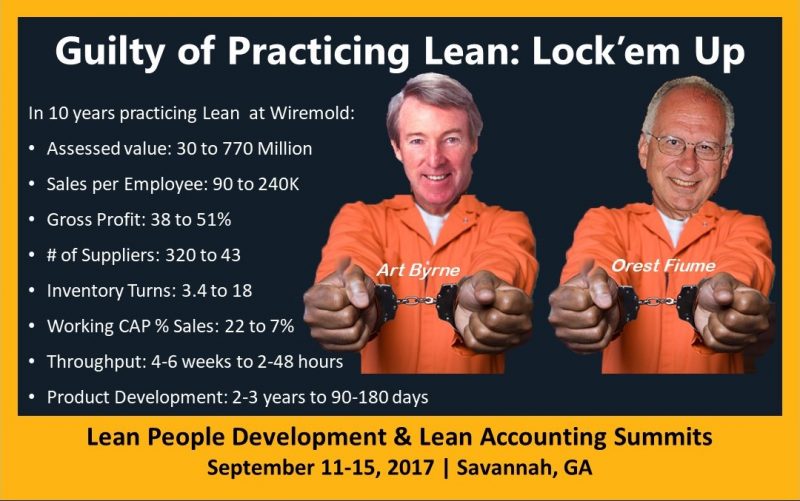 Lean Frontiers hosts leading-edge, intensely-focused learning events for the lean community. These events take the form of Large Summits, hands-on workshops, and online learning opportunities. A unique mix of thought leaders and practitioners present, and facilitate in a variety of learning formats at each event. For more information on Lean Frontiers, visit www.leanfrontiers.com.
Transparency: I working with Lean Frontiers in another capacity and may benefit from you attending the Lean People Development Summit and indirectly the Lean Accounting Summit. Also, the book links are affiliate links from Amazon and I stand to benefit somewhere between $0.25 and $0.50 if you purchase one of these books through the links.