In an immersive working session at the Lean People Development Summit, held September 11-12, Karen Gaudet, Director of Learning at the Lean Enterprise, will facilitate the Operations & Human Resources a Business Partnership: Acting in Partnership for the Business of People Lean Transformation session. The Summit draws professionals from HR, continuous improvement, and leadership to explore how best to design job roles aimed at improvement, build problem-solving skills, define process improvement competencies, and develop leaders at all levels of the organization. This summit was formally known as the Lean HR Summit and has been offered for six years. For more information visit: http://leanpeopledevelopment.com/.
Karen Gaudet has over 20 years' experience leading, training, and coaching high-performance teams of staff and executives in rapid-growth environments. Most recently, as regional director of licensed operations at Starbucks Coffee Company, she built a consistent track record of growing the number of retail stores along with the continuous improvement capabilities of people.
As director of learning at LEI, Karen supports Co-Learning Partners, a small group of select companies with a passion for collaborative learning and a willingness to share results with the global lean community, manages and continue to strengthen LEI's education curriculum, delivers training at customer sites and public venues, and the relationships with 40-plus faculty members, lean management practitioners who have years of hands-on experience implementing what they teach.
At Starbucks, Karen made recommendations on the creation of an operating system model line, then led the first application in a working store and provided feedback necessary for a broad, global implementation. She also led a team of coaches responsible for teaching problem solving and mentoring skills to regional executives, directors, and district managers responsible for implementing the lean operating system. Karen led the growth of Starbucks' New England market, adding 20 new stores annually for five years while hitting profit and return-on-investment goals. Previously, she held management and executive posts in operations, marketing, and training at large restaurant chains, a retail consulting company, and a technology startup preparing for an initial public offering.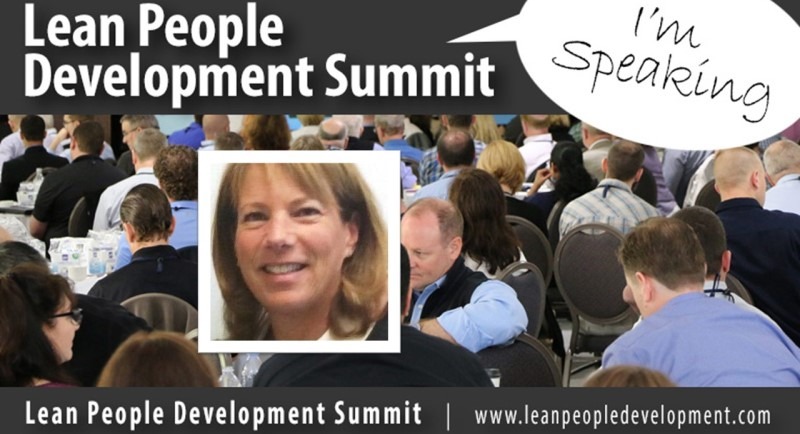 Karen will share her experiences as well as provide an A3 structure for participants to have a tool to explore their own partnerships (whether they be in HR, CI or Ops). In this session you will learn:
Understand the five basic dimensions of organization change / Lean Transformation
Reflect on your own situation and identify key areas for development / learning
Build an action plan to take with you and apply in taking your next first step
Lean People Development is part of Lean Leadership Week that starts with the 2-day Lean People Development Summit and ends with the 2-day Lean Accounting & Management Summit. Between the 2 events is a unique offering of workshops applicable to both sets of attendees. Join executives and their teams from around the globe and explore best practices as it relates to developing people and managing the business of the lean enterprise. Lean Leadership Week takes place September 11-15, 2017 in the charming Southern city of Savannah, GA!
About: Lean Frontiers hosts leading-edge, intensely-focused learning events for the lean community. These events take the form of Large Summits, hands-on workshops, and online learning opportunities. A unique mix of thought leaders and practitioners present, and facilitate in a variety of learning formats at each event. Everything they do is focused on involving everyone in lean thinking and giving them the skills to sustain it.  Founded in 2004 by Jim Huntzinger and with business partner Dwayne Butcher, Lean Frontiers has grown considerably offering lean events in the United States, Europe and Asia Pacific. For more information on Lean Frontiers, visit www.leanfrontiers.com.