Leave a 3-Minute Video on Your Favorite Tool. Why do you like it?
(This is A Google Community: Next 7 Tools)
Community purpose: to explore, create, and perfect the next generation of continuous improvement tools that will lift the quality and effectiveness of organizations beyond 2020.
The first seven tools were published by JUSE over 40 years ago, and the new management tools are already 20 years old. Therefore, we think it is high time for us to take another look to see what new tools there are that can propel our organizations effectiveness and our careers. With your help we can do just that!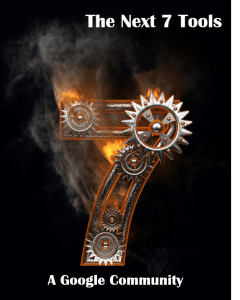 We want each person here to have the rare opportunity to share your ideas in a safe environment where respect for people is paramount, and where unique pragmatic ideas drawn from deep wells of tacit knowledge and experience are valued most. Our goal is to share best practices and things that really work with each other in this select community.
Therefore, to ensure our community health your moderators will promptly prune any weeds before they can drown out sunshine or steal nutrients from the root system. Since we can all make a mistake, we aim for a balance with fairness and many times will try to coach and salvage a member rather than block and finally prune at last resort. Your best behavior is most appreciated.
We appreciate all those members who choose to contribute to rich and meaningful conversations, and especially those who refer great prospective contributors to us as we co-create the Next Seven Tools. Please join us in evolving the Next Seven Tools. Now let's open a discussion. Please start by introducing yourself and why you like this topic.
Leave a 3-Minute Video on Your Favorite Tool. Why do you like it?
(This is A Google Community: Next 7 Tools)