Association for Manufacturing Excellence hosts The Role of Sales in a Lean Enterprise
on June 11, 2015 | 1:00 pm to 2:00 pm EDT.
DESCRIPTION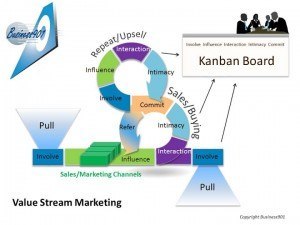 Lean Sales and Marketing concept may differ from the more traditional approaches found in other parts of the Lean Enterprise. Its primary focus is not the discovery of waste but of process improvement with a very specific strategic intent; delivery of superior value for the execution of an organization's value proposition. This means that the focus of the analysis must be on those segments and processes within value streams that have the most substantial impact on the most important value drivers of the organization.
Lean Marketing is about using SDCA, PDCA and EDCA (Explore-Do-Check-Act) through-out the marketing cycle with constant feedback from customers that can only occur if they are part of the process. It is about creating value in your marketing that a customer needs to enable them to make a better decision. It is a moving target and the principles of Lean and PDCA facilitates the journey to Customer Value.
This webinar will introduce the Kanban as a planning tool or an execution tool. Improving your marketing process does not have to constitute wholesale changes nor increased spending. Getting more customers into your Marketing "Kanban" may not solve anything at all. Improving what you do and managing the cadence can result in an increase in sales and decrease in expenses.
WHO SHOULD ATTEND
Sales & Marketing Personnel struggling to understand what Lean means to them
Supply Chain and Purchasing personnel that want to collaborate with Inbound Sales People
Lean Coaches that struggle communicating Lean Principles to Sales & Marketing
Manufacturing, Operations, Development, Support personnel who interface with Sales & Marketing
Business leaders that want to "Lean" their Sales & Marketing
PARTICIPANT BENEFITS
Value Streams in Lean Sales & Marketing
Demonstrate Work in Process is wasteful even in Sales & Marketing
Understand Cadence in your Marketing Kanban
How to Create a Lean Sales & Marketing Transformation
PRESENTER