In the book,Value Stream Mapping for Lean Development: A How-To Guide for Streamlining Time to Market
, Drew Locher explained how to create a Future State Map by utilizing seven basic questions:
What does the customer really need?
How often will we check our performance to customer needs?
Which steps create value and which steps are waste?
How can we flow work with fewer interruptions?
How do we control work between interruptions, and how will work be triggered and prioritized?
How will we level the workload and/or different activities?
What process improvements will be necessary?
Drew goes on to conclude that future state mapping is not a brainstorming session. He likes to use a key ground rule of 70%. If the team believes that they have a 70% chance of implementing a particular idea in less than one year, it could be included as part of the future state. If it is longer, the entire improvement effort would suffer. These specific improvement efforts will be depicted in a value stream map by the use of a Kaizen Burst icon.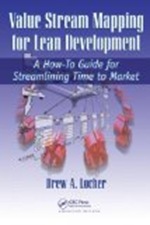 When considering how to use value stream mapping in the marketing process I think the seven questions provide an excellent base for walking through the process. You have to remember, you already have a current state map drawn. In essence what you are trying to do is to move not only current state to future state but from an internal perspective to an external perspective. Your customer should be determining your value stream.
Creating a value stream map does not have to be a difficult process. Many times, it is the degree of complexity that may or may not be required. The degree of complexity can often be determined by the tasks or the time span required in the process. In a podcast I had with Drew, he discussed this particular subject in detail.
In future posts this week, I will be expanding on these seven questions and the use of them in a marketing perspective.