The Sales and Marketing Funnel is a theory that needs to be laid to rest. A linear approach to predict, plan, and proceed is a precarious way to advance. This approach prematurely foresees a solution for the customer without ever understanding their problem. And if you consider addressing the application of social media, it does nothing to support inbound marketing. As we work our way down the funnel, it is just as likely evidence will mount that the proposed solution is wrong. However, we have so much invested we attempt to sway the course of action in our favor.  Linear planning will increase the risk for a customer to engage in an inappropriate course of action.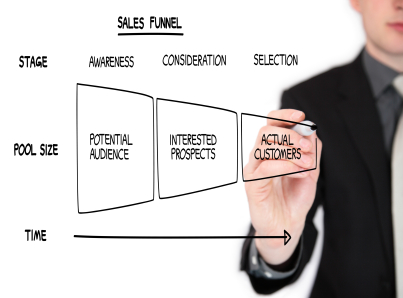 A more correct way of customer introduction is utilizing a problem solving cycle such as PDCA (Deming/Shewart – Plan/Do/Check/Act Cycle). PDCA should be repeatedly implemented in spirals of increasing knowledge of the customer's situation and converge towards the correct solution. Each cycle will become closer to this goal than the previous. This approach is based on the belief that both our customer and our knowledge and skills may be limited at the beginning but continuously improving.
It is very common as a customer goes through a decision making process that their minds will change. At the start of a project, key information may not be known. The PDCA provides feedback to justify our hypotheses and increase our knowledge. This allows both the customer and us not to be perfect the first time. It allows us flexibility in our course of action and with improved knowledge, we (also meaning the customer) may choose to refine or alter the needs. The rate of change or the speed of the improvement is a key competitive factor in today's world. PDCA allows for major jumps in performance not through massive breakthroughs but through frequent small improvements.
Another approach recently popularized is the OODA Loop introduced by Colonel John Boyd that describe how combatants observe a situation, orient themselves, decide what to do, and act, before observing the changed situation and moving through the entire loop again. Viewing combat as a series of successive loops underscores the importance of reassessment and readjustment as circumstances change, and the cumulative benefits of many small wins in successive iterations. Boyd's OODA loop is a vivid example of an iterative loop to guide action under uncertainty and much can be learned from its study.
I am not advocating thinking of your customer in the sense of a combatant as the OODA Loop suggest. However, the strength in the OODA loop is the series of successive loops and small wins that is introduced. Few homeruns are in the market place today. It is more of a singles and doubles game. In fact, few of us can afford the strikeouts and must maintain a high enough batting average to survive.
PDCA is the fundamental concept behind Lean thinking. It is not just a problem solving method but a holistic approach to knowledge creation and improvement within an organization.  Establishing a PDCA culture within your company will enable you to embrace this way of thinking with your customers and prospects. It will develop an outside-in approach to your organization that will allow you to really understand your role with customers and in the markets they participate in.
Seldom do you find a competitive advantage or a real break through in a service or product. If you do, it is only short-lived and commoditized rather quickly. The leverage it brings is an influx of innovative customers that are willing to be risk takers, the early adaptors. People that you can learn from and develop new knowledge and new products. PDCA allows for them to enter your cycle of learning easily and allows you to maximize that new knowledge.
The only competitive advantage that you have is in how quickly you develop new knowledge. Maximizing that through the use of PDCA is essential for your business survival.
This is why I believe the Future of Marketing is Lean!
Related Information:
Why does sales and marketing operate to a different quality standard?
The Future of Marketing is Lean
Why Lean Marketing? Because it is the Future of Marketing …
PDCA for Lean Marketing, Knowledge Creation
Lean Marketing Creates Knowledge for the Customer
The Strategy of the Fighter Pilot Revisited
Key Marketing Concepts from the Korean War
Applying the OODA Loop to Lean