Between the two Savannah, GA summits, Lean People Development Summit and Lean Accounting & Management, a unique offering of workshops will be offered to both sets of attendees. However, the registration is open to anyone, you do not have to participate in either summit. If you live within 100 miles of Savannah, you can experience a half or full day workshop with a leading thought leader. Seldom does this opportunity presents itself outside of a large conference. This means a much smaller "class-size" and more direct contact with the facilitator. This may be the best return on investment on any training you will receive.
Wed, Sept. 13: Summit Workshops
Continuous Improvement Huddles and Metrics, Jean Cunningham, JCC (half-day)
Eliminating Budget Waste to Become Future Ready, Steve Player (half-day)
The Lean Management System, Joe Murli
Re-Thinking HR For Operational Excellence & Culture Change, Cheryl Jekiel (half-day)
Bridging the gap between Accounting and Operations to Improve the Odds for a Successful Lean journey, Jerry Solomon
Lean Leadership Week takes place September 11-15, 2017 in the charming Southern city of Savannah, GA! More information can be found at http://www.leanfrontiers.com/lean-leadership-week/.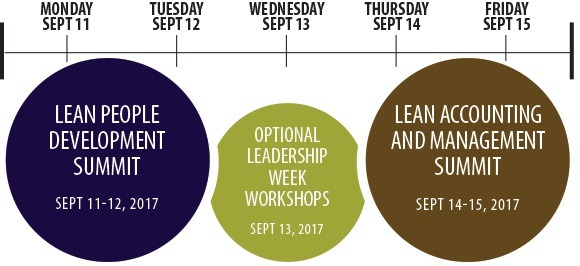 Dwayne Butcher, a principal at Lean Frontiers, states; "The Lean Leadership Week is a unique opportunity to foster collaborative atmosphere through the different silos of the organization. Though the Leadership Workshops is just one day, it allows for the diversity of a much larger conference.  We provide the focus in Lean People Development and Lean Accounting but a greater collaborative atmosphere in the Leadership Workshops."
Lean Frontiers hosts leading-edge, intensely-focused learning events for the lean community. These events take the form of Large Summits, hands-on workshops, and online learning opportunities. A unique mix of thought leaders and practitioners present, and facilitate in a variety of learning formats at each event. Everything they do is focused on involving everyone in lean thinking and giving them the skills to sustain it.  Founded in 2004 by Jim Huntzinger and with business partner Dwayne Butcher, Lean Frontiers has grown considerably offering lean events in the United States, Europe and Asia Pacific. For more information on Lean Frontiers, visit www.leanfrontiers.com.