I have been doing some project work in Scorecarding and Dashboarding lately and ran across the term the 4P Cycle in Gupta's book, Six Sigma Business Scorecard.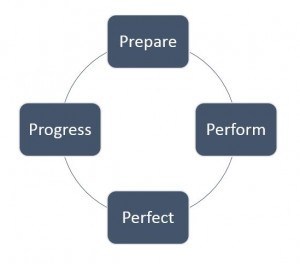 The 4P Cycle consist of

Prepare represents ensuring good inputs to the process, The inputs consist of Ishikawa's 4Ms (material, machines, methods, and manpower or people). The objective is to ensure these four Ms are received well as inputs to ensure the process output will be on target.
Perform implies the process steps are well defined, and understood for effective and consistent execution.
Perfect means assessing the performance against the established target performance. If the process output is not on target, the gap is assessed.
Progress leads to reducing variability or the gap around the target, and striving toward the targeted performance.

By continually applying the 4P cycle, one can reengineer process to achieve the results desired by the customer through better process management, instead of increased inspection.
My understanding is that it is the method to Perform an Opportunity Analysis of a project or undertaking like PDCA or Six Sigma. Of course to a Six Sigma person it may make perfect sense. To a Lean person that thinks continuous improvement is continuous ( we know that is not exactly true) it seems a little out of sync.
Either way, I found it fascinating but have found little reference to it in other literature. In fact, Gupta I feel leaves me hanging a little on the 4P Cycle and was interested if anyone could reference it in other work or shed some light on their understanding or use of it.