'What gets us into trouble is not what we don't know.
It's what we know for sure that just ain't so.' – Mark Twain
I think this famous quote by Mark Twain sums up my feelings about marketing funnels, sales funnels and pipelines and in whatever direction we may want to flip them. We don't know for sure, and we keep pretending that we do know each and every time we construct another funnel. After we construct a funnel/pipeline, we evaluate them by our success rates and pay commission based on those success rates. We wonder why we have limited success rates increasing market share.
Several of my Past Comments on the Subject:
Value Stream Mapping should be left on the Shop Floor
Kill the Sales and Marketing Funnel
Something that is so: If we continue to build transactional funnels, we will continue to get transactional customers. If we build collaborative funnels (Vees, Uuus, or Cycles – just not funnels) , we get collaborative customers. We become collaborative through better understanding of our customers desired outcomes.
Another approach would be to create a learning funnel based on increasing knowledge of a given outcome desired. However, the funnel is such a traditional metaphor that I have difficulty using it. It is the knowledge that we want to build, refine and demonstrate for both parties. How do we build a deeper understanding? We dig deep that's all. The Vee Diagram helps us do that.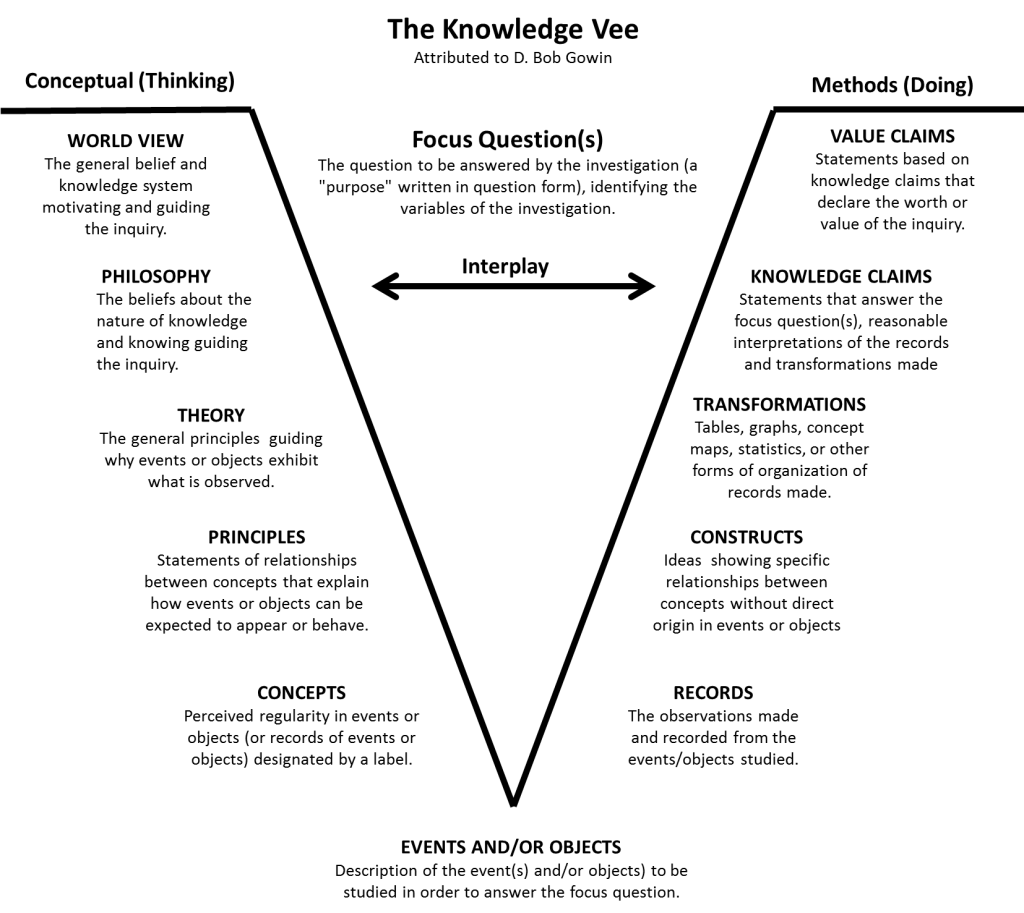 V diagrams help to see that knowledge has structure and when we see that it helps tremendously in anticipating new events. We start with a focus question that serves as an umbrella for this particular inquiry. The V is arranged so that down the left side is what we think; the conceptual side of the framework. The event or the objects that are to be studied are at the bottom of the V. At the bottom point is where we leverage that event/object and start on our upward journey through verification and validation to move those concepts to substantiate the knowledge or value claims (statements).
I found this process quite enlightening when viewed with the Outcome-Based approach that I have been utilizing. It describes the action that is required to develop that shared learning experience we must initiate with a customer.
This week I will demonstrate several uses of the V diagrams that I have been exploring.
Lean Sales and Marketing: Learn about using CAP-Do
Special Marketing with Lean Book and Program offers on Facebook