For a business to scale, you need new customers. Where do you find them? In the past, we looked at marketing to the masses and in hope that we will find a likely candidate and narrow them down through discovering how much pain they are in relative to our product offering. Some may call this product dominant type thinking.
I think in today's world this is a failed strategy. In fact, it goes against most of the messages of inbound marketing. In inbound marketing. you consider the top of the funnel a customer that has already discovered their pain and is now searching for suppliers. According to most statistics in the B2B environment, we are not invited to a customer's purchase cycle till it is 60% complete. If that is the case, we are easily missing 50% of the opportunities. And, we may be spending most of our dollars in an attempt to enter the cycle, not after we get invited. Much of our time, resources and dollars could be considered very wasteful. Our attempt to create effectiveness is to manage and segment the top of the funnel. But why? It is our least known area and by and large the least the receptive to our message.
I believe the majority of our growth and revenue is coming after the sale, not before. If we look at this new type of funnel that I became familiar with through an Instagram from Service Source and the book, Subscription Marketing. I have made a variant of the diagram. I call it the 5Rs of Growth:
Re-Sell
Re-Gain
Retain
Renew
Refer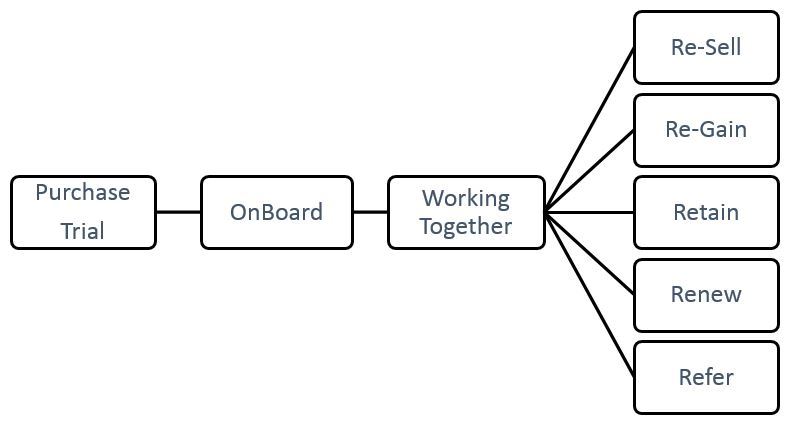 There are certainly other ways to segment customers; this not being the only way, but it is a very common to view customers from this perspective. When you review these areas and address your customers from these perspectives, I believe you find your most opportunistic prospects.
I had discussed before the Funnel of Opportunity and marketing from the perspective of users. This, of course, is complementary to Service Dominant Logic. When we view how to reach prospects from this perspective, it allows for a more effective and efficient process. We have data and what I call "tribal" knowledge at our disposal. You might ask, "What about new customers?"
The greatest growth opportunities are on the edges of the use of our product/services. Or, on the edges of the 5Rs of Growth. We must make a concentrated effort to identify and participate in relevant knowledge flows on the edges of these 5Rs. In the book, The Power of Pull, the authors discuss the relationship between the core and the edge. When we envision tomorrow's best product or service being used in our customer's future it creates far-reaching possibilities.  It is this type of thinking of our customer's business, the edges of their business, the edges of the 5Rs tha tis needed for growth. Our most successful sales people are already thinking in these terms. Are you?