Archive for Marketing Funnel
In the Outcome-Based Mapping approach, we view the outcomes as the central part of our theme. We recognize that a change of behavior must occur for us to achieve our goals or make the desired impact that wish to obtain. In traditional sales and marketing we can develop the simplest of all marketing funnels based on a pre-purchase, purchase (buy), and post purchase. We have a tendency to complicate this into numerous steps and activities. When we view an outcome-based approach we like to separate the group very similarly into Expect to see, like to see and love to see.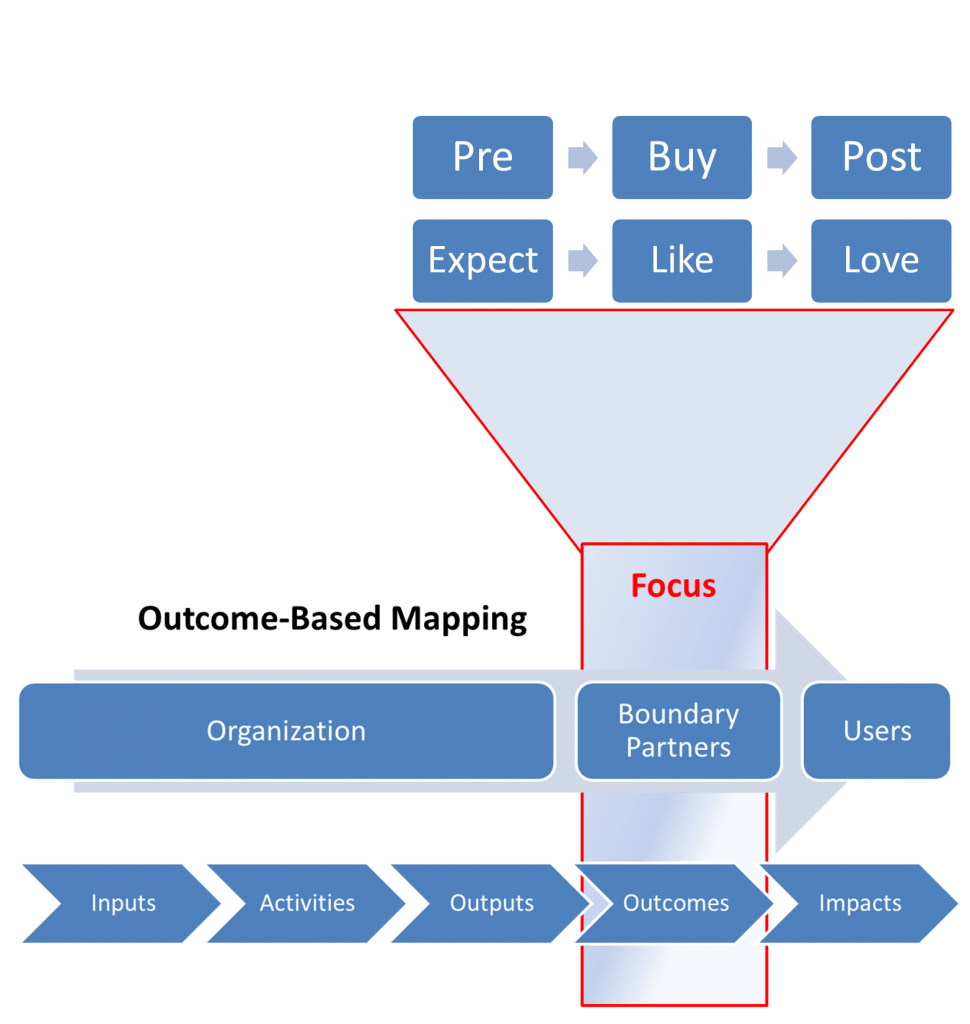 The major difference is that, in most marketing funnels, we view activities of both the supplier and the customer as opposing reactions, much like two boxers squaring off at each other. In Outcome-Based mapping, we separate our activities that we are doing and our outputs from the partner. We monitor and evaluate if individuals/organizations change or benefit as a result of their participation with us. If we have a positive influence, we assist our partner to move from expect to like to love. We focus on behaviors not activities and not processes. We are constantly adapting our viewpoint to meet the partner's needs within the segment. So many of us try to force fit customers into a predefined path and achieve the ultimate outcome, a sale. We talk about win-win but pay salespeople based on closed sales. We leave up to our sales department to balance the outcomes and maximize the opportunities within them.
The drawing above is not an attempt to show differences instead it demonstrates the existing alignment. The change that must occur is to identify the behaviors, boundary partners or boundary personas we dare say, within each column and seek to understand and emphasize why that persona exists in that space. Most of the time we market horizontally to a persona and identify the actions needed to persuade them. In this approach the persona, identified by behaviors exist within the outcomes. I like to think of using Cap-Do as an evaluation tool within these columns as required. Our core strength and core competencies are embedded in the inputs, activities and outputs of our organizational structure and depicted on the left side of the map.
The example does not prescribe that we never change any organizational practices. It proposes that we monitor and evaluate behaviors and change organizationally (inputs, activities, outputs) from an outside-in approach. This is not meant for every organization. It may not be suited for start-ups trying to find product/market fit. It is very well-suited for companies that desire to grow through intermediaries that will benefit from user engagement and companies scaling that have a defined core competency.
The Outcome Base structure is very compatible with the principles I discuss in Lean Sales and Marketing. The map outline above is not for the entire organization. It is for only one segment or what we call the boundary partner. We do you not develop what I would call a pure Product Value Stream. Instead, it would be based on Boundary Partners or Sales Channels using an outside-in approach. It is strikingly the same as the Lean Marketing House structure and the original value stream layouts that I have used. Each pillar represents a different boundary partner and the sub-roof (User/Impact) can have multiple layers. For more information visit the Lean Marketing House eBook page.
Click on Picture to see a larger comparison
How would you start something like this? I will show a few outlines in the upcoming weeks but initially I would start by taking a Cap-Do approach. Understanding your core competencies and more importantly how your customer views them is imperative in building an outcome-based approach.
Definitions and Overview: Mapping Expectations of Customer Behavior
Book reference: Outcome Mapping: Building Learning and Reflection into Development Programs
Lean Sales and Marketing: Learn about using CAP-Do